THE GREENPOINT MONITOR MUSEUM
"ROAD SHOW"
May 7, 2004

Presented At:
J.H.S. 126 - "JOHN ERICSSON SCHOOL"
Page 2
CLASSES 7C & 8C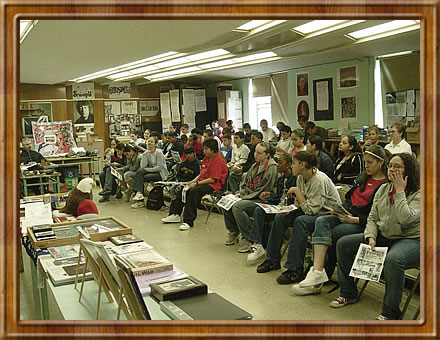 George, a graduate of JHS 126, remembers the days
when he learned about the USS Monitor and its designer
John Ericsson at JHS 126 - "John Ericsson School".
George thanks CONSOLIDATED FREIGHTWAYS
for donating a reproduction plaque of the one placed on their former
truck terminal building located at 11 West Street in Greenpoint.
This is the former site of Continental Iron Works.
The plaque reads:
AT THESE WORKS
WAS BUILT BY
THOMAS F. ROWLAND
THE MONITOR
DESIGNED BY
CAPT. JOHN ERICSSON
KEEL LAID OCT. 25, 1861
LAUNCHED JAN. 30, 1862
FOUGHT THE BATTLE
OF HAMPTOM ROADS
MARCH 9, 1862

CLICK IMAGES TO ENLARGE
Janice introduces the class to John Ericsson's fire engine.
In 1829, while working in London, England, John Ericsson
designed a new steam fire engine called the "Conqueror".
Steam powered the fire engine's water pump. Horses were used to
pull the engine. This new fire engine was used for the first time in
London to stop a fire at the "Argyll", a famous London concert hall.
This fire threatened to destroy the City. The City's old hand operated
fire pumps froze in the cold during the fire while the "Conqueror's"
steam engine continued to operate for five hours. Also the water from
the "Conqueror's" hose reached much higher heights than that
of the old hand operated fire pumps. The "Conqueror"
did not save the "Argyll" but it did save the City.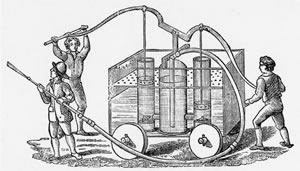 The old hand operated fire pumps.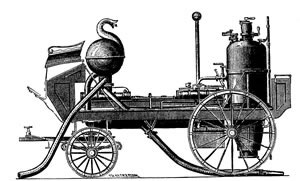 John Ericsson's steam fire engine the "Conqueror".
Over the years the steam fire engines improved no longer
requiring horses to move.
George demonstrates the power of steam using
a model steam fire engine. The boiler of the "Road Show" fire engine
not only activates the water pump but also makes the fire engine move.
The "Road Show" fire engine is a
model of a German fire engine built in 1903.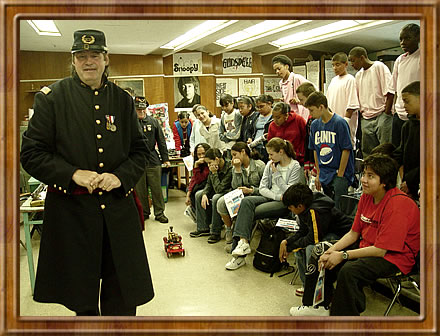 Click the "Greenpoint" to Page 3



Return to Page 1


THE GREENPOINT MONITOR MUSEUM
P.O. Box 220378
Brooklyn, New York 11222-0378
718-383-2637
Janice Lauletta-Weinmann, President, Webmaster
George J. Weinmann, Webmaster

Copyright © 2002 Janice & George J. Weinmann
All Rights Reserved.