JHS 126 - John Ericsson Junior High School
Greenpoint, Brooklyn, NY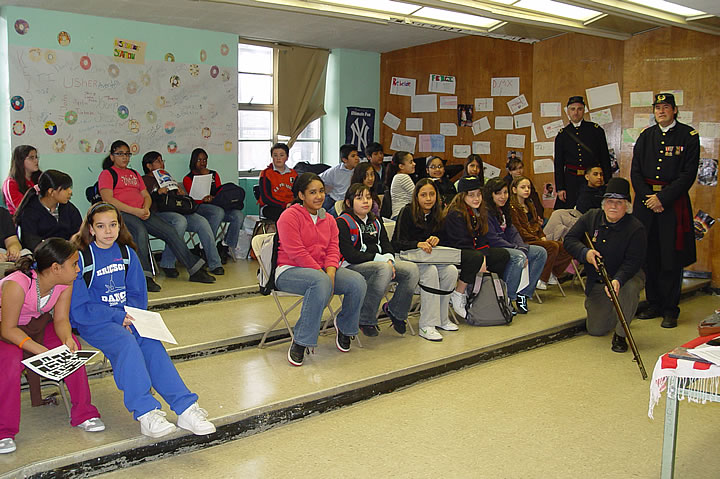 WELCOME FROM THE 6TH GRADE


John Ericsson was born in Varmland, Sweden on July 31, 1803.
Olaf, his father, worked as a mine inspector. When
John visited his father at the mine John would make drawings
of the macinery. Later John's father was appointed Chief
Blasting Engineer for the construction of the Gota Canal in
Sweden which connects the North Sea with the Baltic Sea.
Count Platen was in charge of this project.
John and his family moved to the job site.
There were no schools where the canal was being built.
He was taught by his father and the other engineers.
They taught him drawing, mathematics, English
and chemistry. John attracted the attention of Count Platen
who had heard of his efforts. After examining John's various
plans and drawings, Count Platen said to John "Continue as
you have commenced, and you will one day produce something
extraordinary." Count Platen appointed John as a cadet
in the corps of engineers. When he was 13 years old, John was put in
charge of 600 men. There were many important works on the
canal constructed after drawings made by Ericsson at this early age.

His love of machinery and how they worked led him to become
one of the world's most famous and important inventors.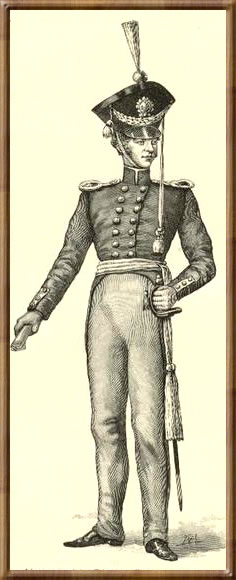 John Ericsson joined the Swedish Navy and
in 1820 he joined the Swedish Army. He was promoted to Captain.
He later moved to London, England.
The old hand operated fire pumps.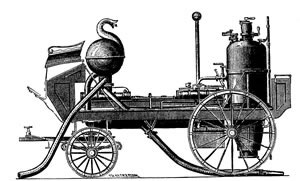 John Ericsson's steam fire engine the "Conqueror".
In 1829, while working in London, England, John Ericsson
designed a new steam fire engine called the "Conqueror". Steam
heated in its boiler powered the fire engine's water pump. Horses were
used to pull the engine. This new fire engine was used for the first time in
London to stop a fire at the "Argyll", a famous London concert hall.
This fire threatened to destroy the City. The City's old hand operated
fire pumps froze in the cold during the fire while the "Conqueror's"
steam engine continued to operate for five hours. Also the water from
the "Conqueror's" hose reached much higher heights than that
of the old hand operated fire pumps. The "Conqueror"
did not save the "Argyll" but it did save the City.
John Ericsson sailed into New York harbor in 1839.
Over the years the steam fire engines improved no longer
requiring horses to move.
George demonstrates the power of steam in the class by using
a model steam fire engine. The boiler of the "Road Show" fire engine
not only activates the water pump but also makes the fire engine move.
The "Road Show" fire engine is a
model of a German fire engine built in 1903.
Click on the pictures below.