Greenpoint Monitor Museum
2012-2013 "Road Show"
May 8, 2013
Queen of the Rosary Catholic Academy
Northside Campus
Williamsburg, Brooklyn, N. Y.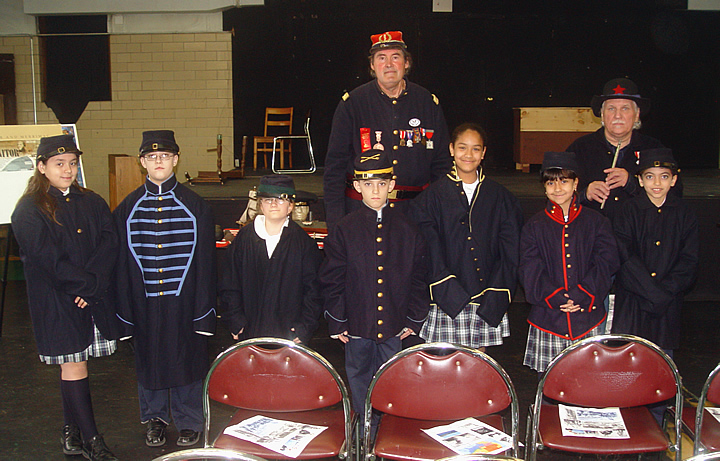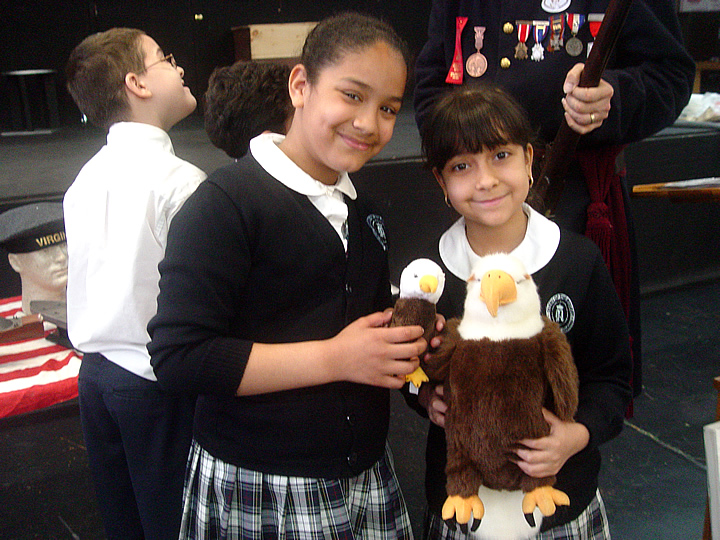 WELCOME FROM THE FOURTH GRADE.
Music of the Civil War
Music played an important part in the lives of the Civil War soldiers. Many
young boys joined the Union Army as drummer boys.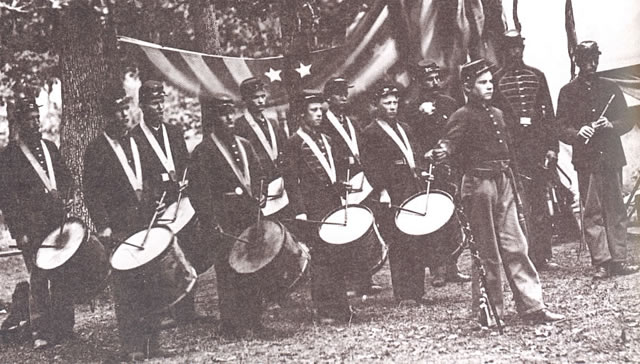 Drum Corps of the Ninety-third New York Infantry.
After the Battle between the USS Monitor and the CSS Virginia (USS Merrimac)
the music above was written in honor of John Ericsson and the USS Monitor.
One famous Civil War song is "WHEN JOHNNY COMES MARCHING HOME AGAIN". It was written by Patrick Sarsfield Gilmore. He was an Irish immigrant. He led Patrick Gilmore's Band. At the beginning of the Civil War his band enlisted as a group in the Union Army as part of the 24th Massachusetts Infantry. Gilmore's band served as musicians at many battles including Bull Run, Antietam, Chancellorsville, Gettysburg and Richmond. He composed the words and music to "When Johnny Comes Marching Home" in 1863.
When Johnny comes marching home again,
Hurrah! Hurrah!
We'll give him a hearty welcome then
Hurrah! Hurrah!
The men will cheer and the boys will shout
The ladies they will all turn out
And we'll all feel gay,
When Johnny comes marching home.

The old church bell will peal with joy
Hurrah! Hurrah!
To welcome home our darling boy
Hurrah! Hurrah!
The village lads and lassies say
With roses they will strew the way,
And we'll all feel gay
When Johnny comes marching home.

Get ready for the Jubilee,
Hurrah! Hurrah!
We'll give the hero three times three,
Hurrah! Hurrah!
The laurel wreath is ready now
To place upon his loyal brow
And we'll all feel gay
When Johnny comes marching home.
CLICK ON PICTURES BELOW.
Back to the Greenpoint Monitor Museum "Road Show" Home Page
The Museum is not-for-profit with 501(c)(3) status.

CONTACT US:
THE GREENPOINT MONITOR MUSEUM
P.O. Box 220378
Brooklyn, New York 11222-0378
718-383-2637
Janice Lauletta-Weinmann, President, Webmaster
George J. Weinmann, Webmaster

Copyright © 2002-2014 Janice & George J. Weinmann
All Rights Reserved.