The Greenpoint Monitor Museum "Road Show"
P.S. 31 - Samuel F. Dupont School
December 15, 2006
P.S. 31 - SAMUEL F. DUPONT SCHOOL
GREENPOINT, BROOKLYN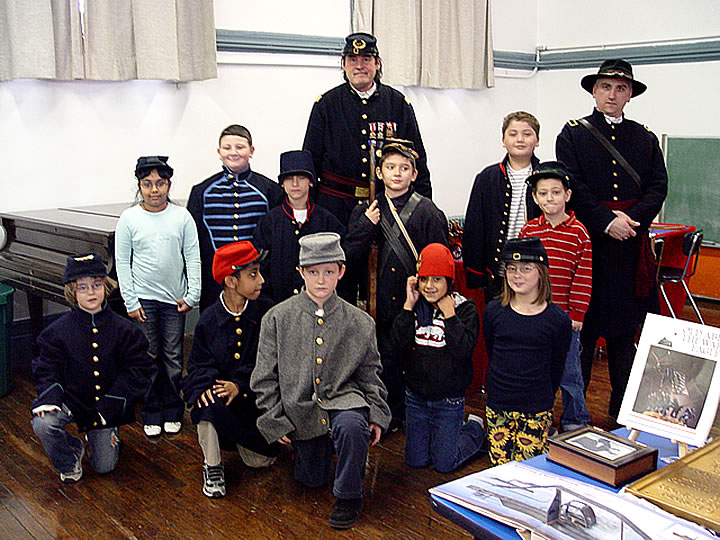 WELCOME FROM THE FOURTH GRADE.
ZOUAVE UNIFORMS OF THE CIVIL WAR
George (center of photo) is wearing a reproduction
of the uniform worn by his great great grandfather,
Charles F. Weinmann, who fought in the Civil War
with the 9th New York Hawkins' Zouaves.
The Civil War zouave uniform is very colorful compared
to the Civil War Union blue uniform worn by Arthur.
The Civil War Union zouave uniform is similar in style
to the zouave uniforms of French Algeria.

Janice is wearing a reproduction uniform of a
9th New York Hawkins' Zouave Vivandiere.
Her uniform matches George's uniform.
The Vivandiere's uniform also had jacket
buttons and a skirt.
This is Colonel Rush Hawkins of the 9th New York Hawkins' Zouaves.
Ellsworth's First Fire Zouaves also came from New York City.
They were New York City Firemen.
George shows the class the top of an original Ellsworth Fire Zouave
flag standard (flagpole) which carried the flag that
led the Fire Zouaves into battle. The flag standard
was cut many years ago when it was made into a
presentation piece as a gift to the Grand Army of the Republic.
It has been passed down to the
Oliver Tilden Camp No. 26,
Sons of Union Veterans of the Civil War.
CAN YOU FIND THIS FLAG FLAGPOLE IN THE
PICTURE ABOVE?

By looking at a Civil War soldier's cap you can see what he did in the war.
The insignia above were attached to the top of his cap.
CROSS CANNONS - This soldier is in the Artillery. He is in charge of the cannons.
CROSS SABERS - This soldier is in the calvary. He rides a horse into battle.
HORN - This soldier is in the infantry. He marches and fights on foot.
Click on the pictures below to make them larger.