The Greenpoint Monitor Museum "Road Show"
PS 84 - Jose De Diego School
January 12 , 2007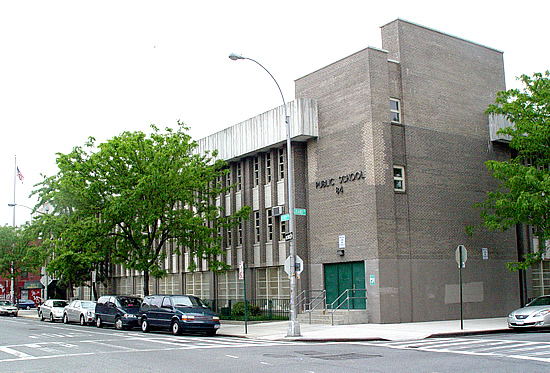 PS 84 -Jose De Diego School
Williamsburg, Brooklyn, NY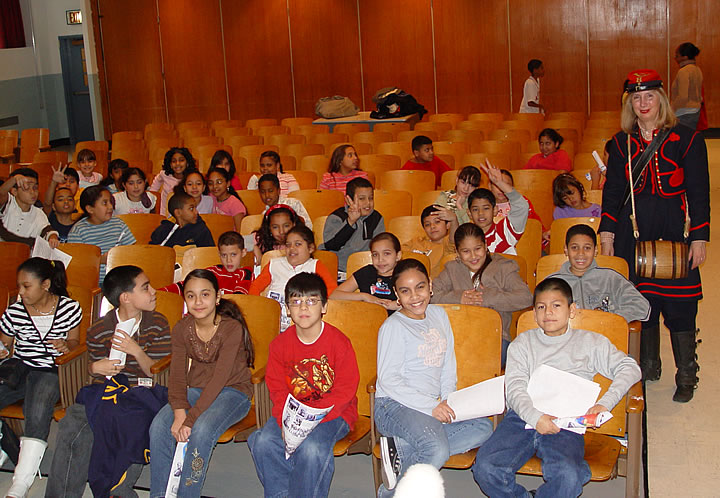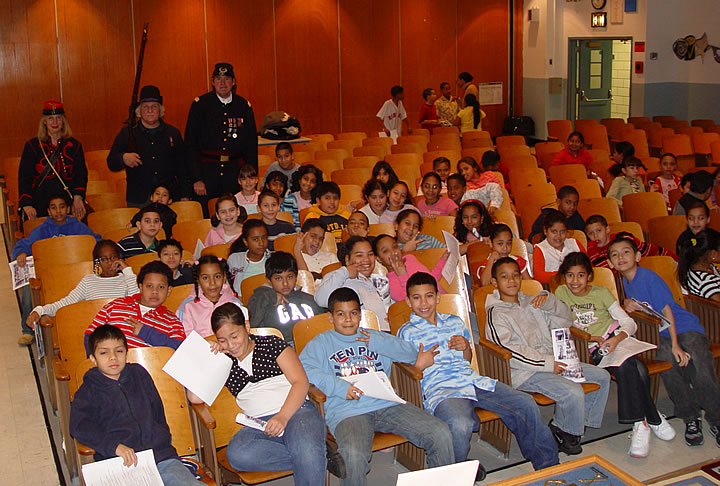 Welcome from the Fourth Grade.
CHILDREN IN THE CIVIL WAR
"JOHNNY CLEM"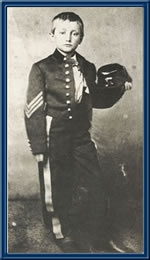 Johnny Clem was born in Ohio in 1851. After his
mother died, he ran away from home to join the army.
He discovered that the army was not interested
in 9-year-old boys, but he still tagged along.
The men adopted him as their drummer boy.
As he was not officially enrolled in the army,
the officers chipped in to pay his $13 a month salary.
He later was officially enlisted intoCompany C, 22nd Michigan,
and received his own pay. At the Battle of Shiloh
his drum was smashed by cannon fire. After this battle
he became known as "Johnny Shiloh". At the
Battle Of Chickamauga, Johnny rode an artillery caisson
to the front and held a musket that was trimmed to his size.
A Confederate officer ran after the cannon he rode with,
and said, "Surrender you little Yankee!"
Johnny fired his musket, wounded the officer and took
him prisoner. After this battle he was called the
"Drummer Boy of Chickamauga". President U.S. Grant
appointed Johnny to the Army military academy at
West Point, but Johnny did not have the neccessary
academic background. Since he had been fighting
the Civil War instead of going to school, Johnny
failed to pass the entrance exam. In 1871
President Grant decided to appoint Johnny
as a 2nd lieutenant with the 24th Infantry-a black unit.
Johnny retired from the army in 1915 with the rank
of major general. Johnny Clem died at the age of 85
in San Antonio, Texas in 1937. He was buried at
Arlington National Cemetery in Washington, D.C.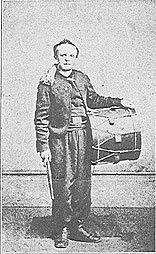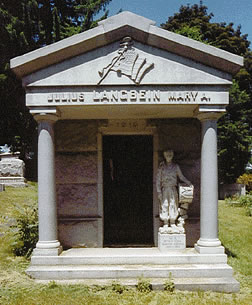 Julius Langbein was in the same regiment as
George's Great Great Grandfather who was in the
9th New York Volunteers Hawkins Zouaves.
At 15 years old Julius became a drummer boy.
Under heavy fire he helped a wounded officer
by taking him to safety. He saved the officer's life.
For this act of courage he won the MEDAL OF HONOR.
Julius Langbein is buried in Woodlawn Cemetery in the Bronx.
A statue of him as a drummer boy is in front of his grave site.
The statue was stolen. The Sons of Union Veterans of the Civil War
put a notice in the newspaper about the stolen statue.
A cab driver, while waiting for the light, noticed the photo in
the newspaper. Then he noticed some men carrying the statue
from a truck to an antique store. He called the police and the
statue was rescued and brought back to the cemetery.

EVERYONE MUST RESPECT A CEMETERY AND ITS GRAVES.
TOO MANY TOMBS AND MEMORIALS ARE BEING DESTROYED
BY THIEVES AND VANDALS.

CLICK ON THE PICTURES BELOW TO MAKE LARGER.