The Greenpoint Monitor Museum
Oliver Tilden Camp #26,
Sons of Union Veterans of the Civil War
150th ANNIVERSARY LAUNCH OF THE
USS MONITOR
JANUARY 30, 2012
WREATH LAYING CEREMONY
USS MONITOR STATUE
MSGR. McGOLRICK PARK
FORMERLY WINTHROP PARK

Official Program of the launching of the USS Monitor Event.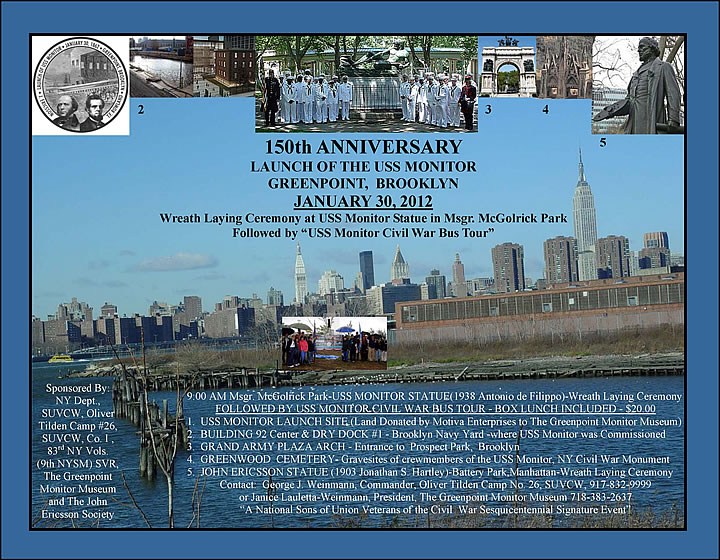 "PS 110 THE MONITOR SCHOOL"
THE ENTIRE STUDENT BODY AND TEACHERS
MARCHED FROM THE SCHOOL ON MONITOR ST. TO THE STATUE
AS THE SCHOOL DID IN 1938 WHEN THE STATUE WAS FIRST ERECTED.
THANK YOU TO ANNA CANO AMATO, PRINCIPAL, PS 110 TEACHERS AND STUDENTS.

Panorama photos by Nicholas Biondo - New York's Artistic Photographer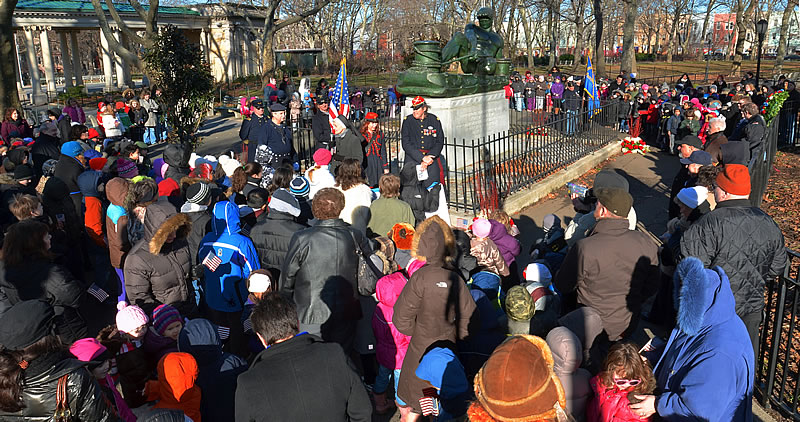 SISTER DOROTHEA SPEAKING ON BEHALF OF THE STUDENTS FROM NEARBY
ST. STANISLAUS KOSTKA SCHOOL WHO ALSO ATTENDED THE EVENT.

SHE FOLLOWED WITH A SURPRISE TO EVERYONE AS SHE LED
PS 110 AND ST. STAN'S CHILDREN AS THEY SANG HAPPY BIRTHDAY TO
COMMANDER GEORGE J. WEINMANN ON HIS BIRTHDAY.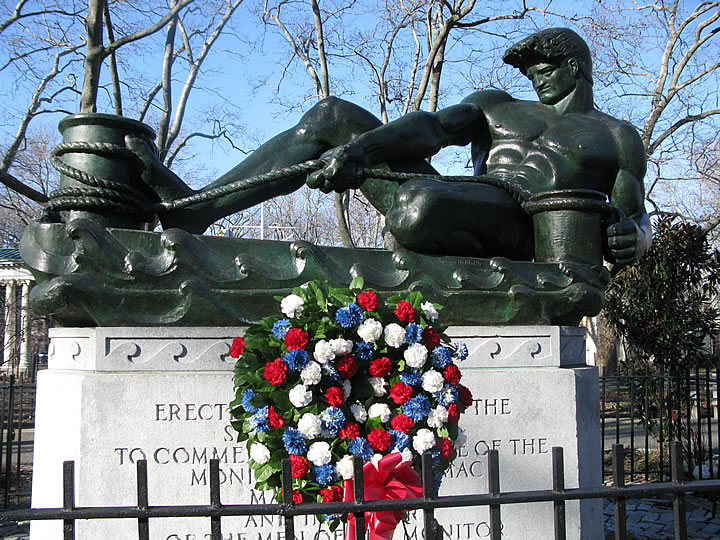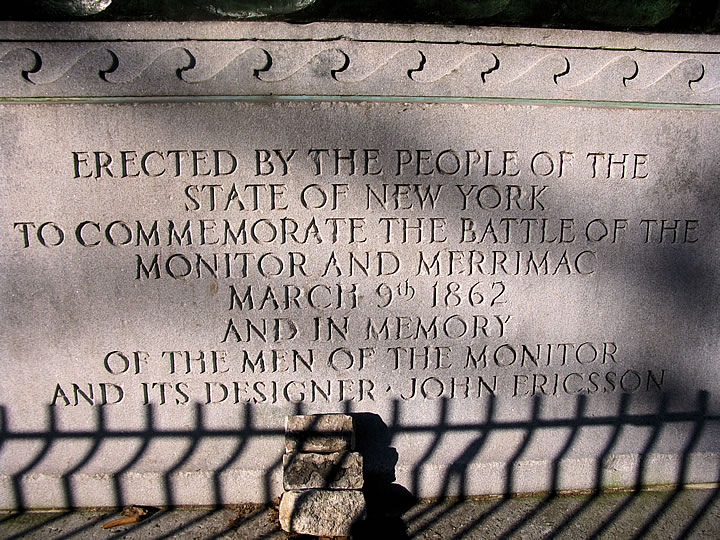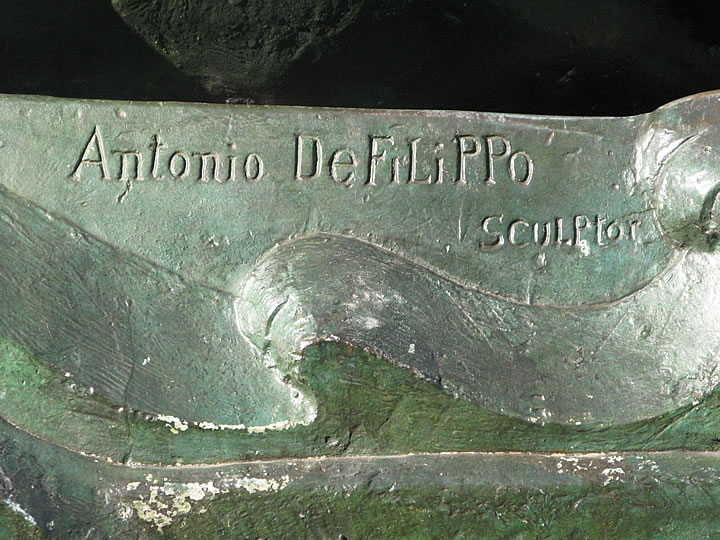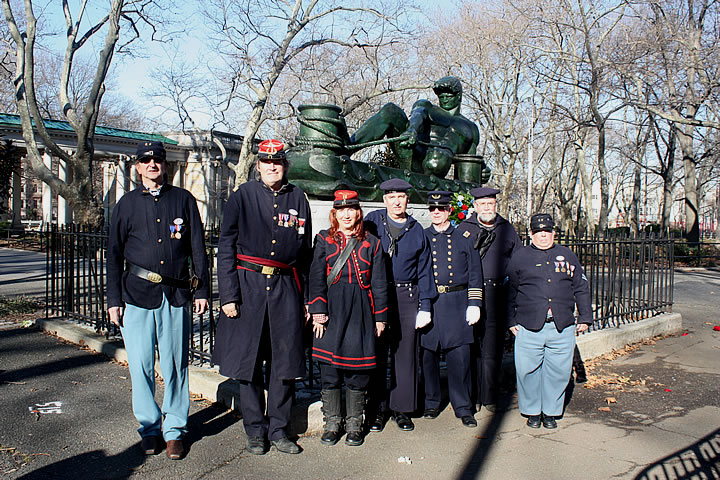 GERARD KASCZINSKI (SUVCW), GEORGE AND JANICE LAULETTA-WEINMANN,
CREW USS LEHIGH WITH DON FISCHBURN AND MARK GORET (SUVCW)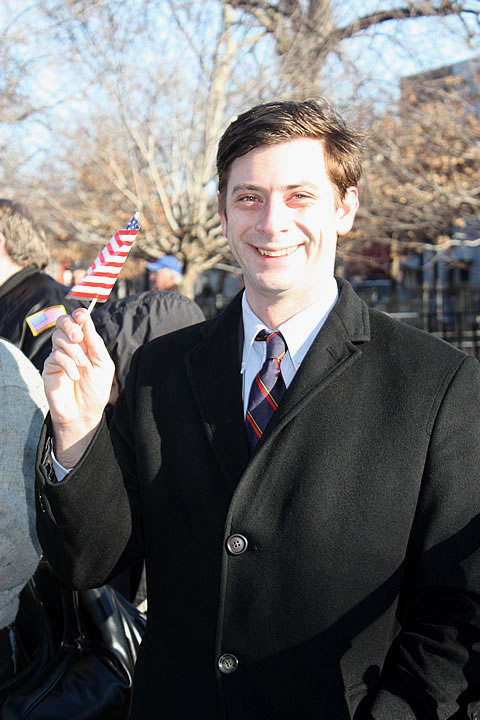 NEW YORK CITY COUNCILMAN STEPHEN LEVIN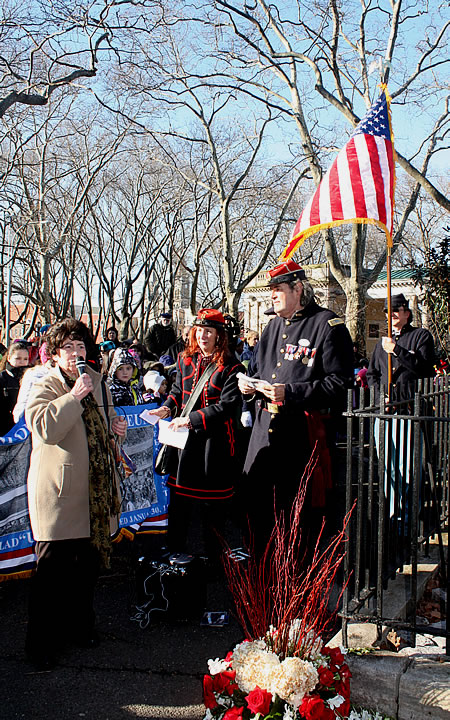 TISH CIANCIOTTA SPEAKING ON BEHALF OF ASSEMBLYMAN JOSEPH LENTOL
WHO WAS IN ALBANY
Click photos below to begin slide show.

Back to the 150th Anniversary page
Back to the Greenpoint Monitor Museum homepage.
CONTACT US:
THE GREENPOINT MONITOR MUSEUM
P.O. Box 220378
Brooklyn, New York 11222-0378
718-383-2637
Janice Lauletta-Weinmann, President, Webmaster
George J. Weinmann, Webmaster

Copyright © 2002-2014 Janice & George J. Weinmann
All Rights Reserved.