The Greenpoint Monitor Museum
Oliver Tilden Camp #26,
Sons of Union Veterans of the Civil War
150th ANNIVERSARY OF THE
LAUNCH OF THE USS MONITOR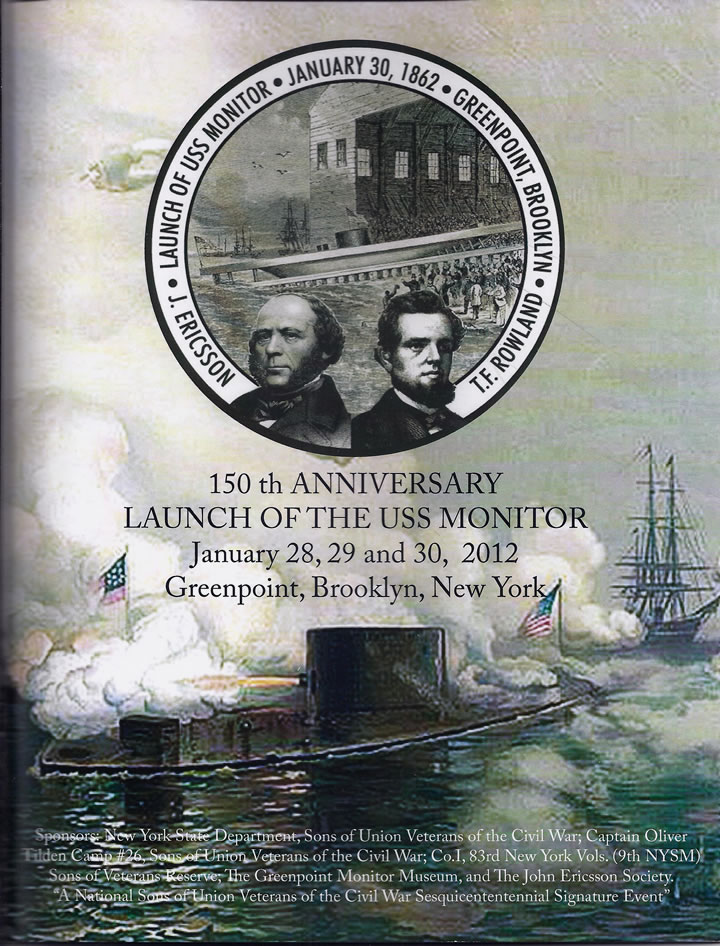 Official Program of the launching of the USS Monitor Event.
On January 30, 1862, the USS Monitor was launched from the Continental Works located in Greenpoint, Brooklyn, New York.
150 years later, on January 28th, 29th and 30th, 2012, a historic celebration took place to honor the launching of the USS Monitor, the ship that saved the Union.
The celebration honored John Ericsson, her inventor, Thomas F. Rowland, her builder, her crew and the Continental Works workers who built her.

The event was honored to be included as one of the Sons of Union Veterans of the Civil War National Sesquicentenial Sigature Events.
The New York Department SUVCW, Oliver Tilden Camp #26, SUVCW, Co. I, 83rd New York Vol. (9th NYSM) Sons of Veterans Reserve, The Greenpoint Monitor Museum and the John Ericsson Society sponsored the event.
The event was organized and led by the Greenpoint Monitor Museum
and Oliver Tilden Camp #26, SUVCW

SEE EVENT INFO AND PHOTOS THROUGH LINKS BELOW
JANUARY 28, 2012 - HISTORY FAIR AT CAPITAL ONE BANK (FORMER GREENPOINT SAVINGS BANK) Thomas Fitch Rowland, the builder of the USS Monitor, was a first Trustee of the Greenpoint Savings Bank.

JANUARY 28, 2012 - CONCERT AT CHURCH OF THE ASCENSION
Thomas Fitch Rowland donated funds from the construction of the USS Monitor to build this Church.


JANUARY 29, 2012 - MEMORIAL SERVICE AT CHURCH OF THE ASCENSION in Memory of the USS Monitor, her builders, her crew and John Ericsson.
JANUARY 29, 2012 - PARADE FROM CHURCH AND CEREMONY AT LAUNCH SITE (Launch Site of the USS Monitor) land donated by Motiva Enterprises
JANUARY 29, 2012 - RECEPTION AT GRAND PROSPECT HALL.
JANUARY 30, 2012 - WREATH LAYING CEREMONY AT THE USS MONITOR MONUMENT IN MSGR. McGOLRICK PARK - including parade of school children from PS110-the Monitor School

JANUARY 30, 2012 - USS MONITOR CIVIL WAR BUS TOUR - including launch site, Brooklyn Navy Yard Building 92, USS Monitor Dry Dock, Soldiers and Sailors Memorial Arch at Grand Army Plaza, Green-Wood Cemetery, John Ericsson Statue at Battery Park in Lower Manhattan
THANK YOU TO ALL CONTRIBUTING PHOTOGRAPHERS (PHOTO CREDITS):
Nicholas Biondo - New York's Artistic Photographer
- panorama photos January 30 USS Monitor Monument
Beverly DiCovello
Laura Hoffmann
Janice Lauletta-Weinmann
Heather Letzkus
Antoinette Locasio
Evelyn Matechak
Mitch Waxman
Robert Worden


Back to the Special Events page
Back to the Greenpoint Monitor Museum homepage.
CONTACT US:
THE GREENPOINT MONITOR MUSEUM
P.O. Box 220378
Brooklyn, New York 11222-0378
718-383-2637
Janice Lauletta-Weinmann, President, Webmaster
George J. Weinmann, Webmaster

Copyright © 2002-2014 Janice & George J. Weinmann
All Rights Reserved.