The Greenpoint Monitor Museum
Oliver Tilden Camp #26,
Sons of Union Veterans of the Civil War
150th ANNIVERSARY LAUNCH OF THE
USS MONITOR
JANUARY 30, 2012
USS MONITOR TOUR

Official Program of the launching of the USS Monitor Event.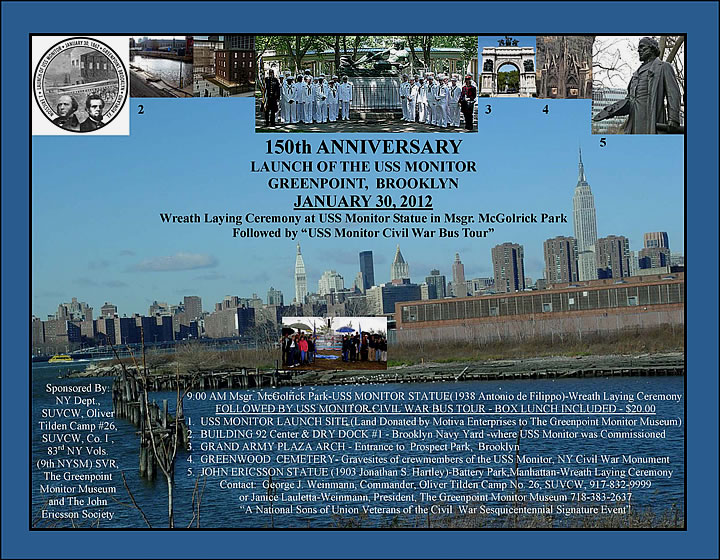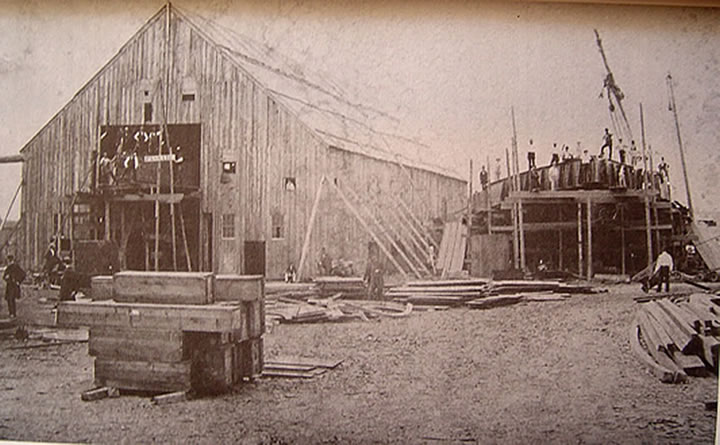 THE ORIGINAL CONTINENTAL WORKS BOATHOUSE WHERE THE USS MONITOR WAS BUILT.
A LATER CONTINENTAL WORKS BOATHOUSE BUILT ADJACENT TO THE ORIGINAL USS MONITOR
BOATHOUSE WHERE MONITOR CLASS IRONCLADS WERE BUILT
INCLUDING DOUBLE TURRETED MONITORS AS SHOWN IN THE DRAWING ABOVE.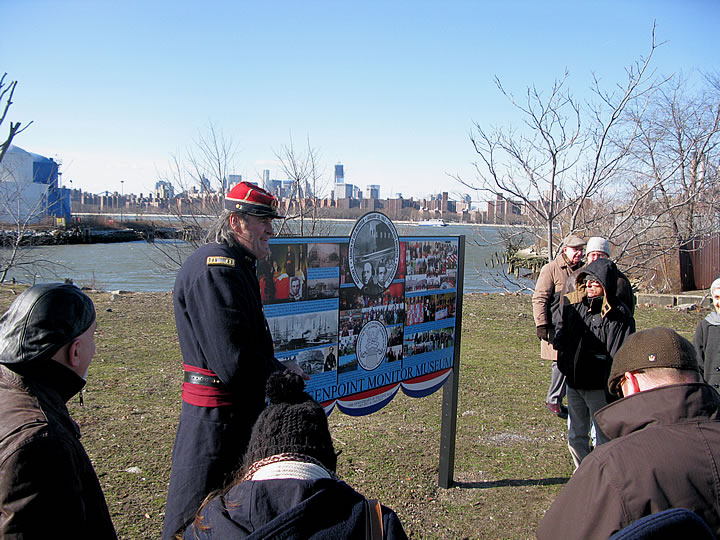 TOUR BEGINS ON THE LAND DONATED TO THE MUSEUM BY
MOTIVA ENTERPRISES FOR THE PURPOSE OF BUILDING A MUSEUM DEDICATED TO THE
USS MONITOR, JOHN ERICSSON AND GREENPOINT'S HISTORY.
THIS SITE SHARES THE LAUNCH SITE OF THE USS MONITOR.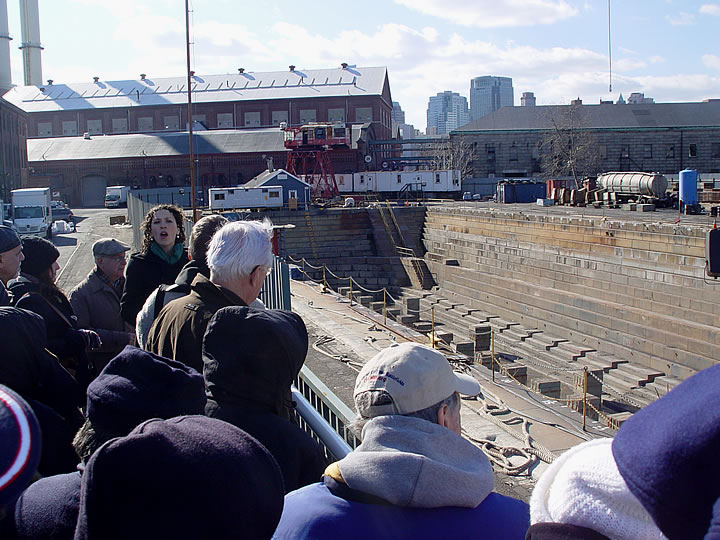 THE NEXT TOUR STOP WAS AT BUILDING 92 OF THE BROOKLYN NAVY YARD
AND THE ORIGINAL DRYDOCK WHERE THE USS MONITOR WAS
OUTFITTED AND COMMISSIONED.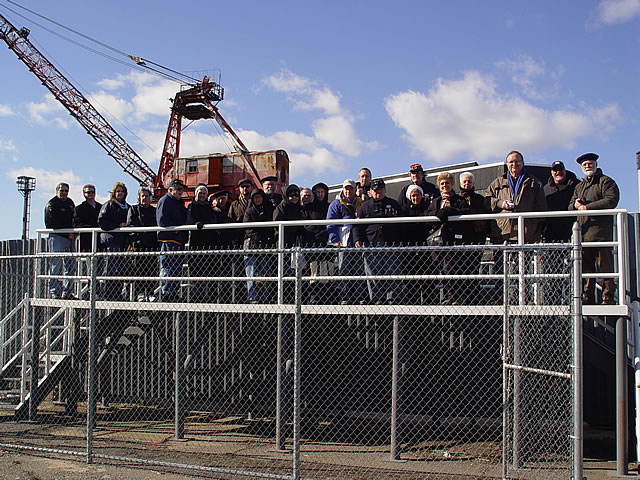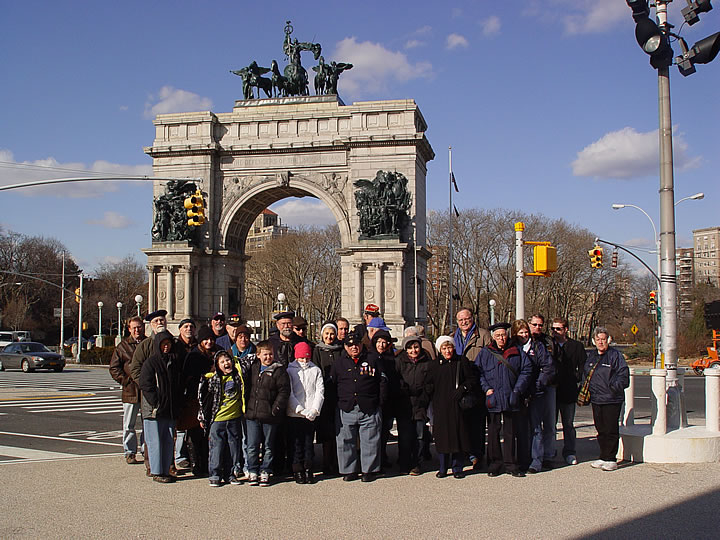 FOLLOWED BY A STOP AT JOHN H. DUNCAN'S
SOLDIERS AND SAILORS MEMORIAL ARCH AT
GRAND ARMY PLAZA WHICH WAS COMPLETED IN 1892 AND ADORNED
WITH STATUARY BY SCULPTOR FREDERICK MAC MONNIES.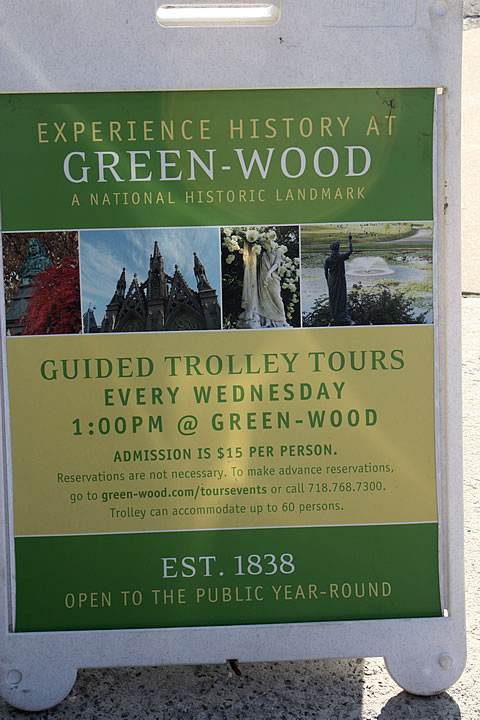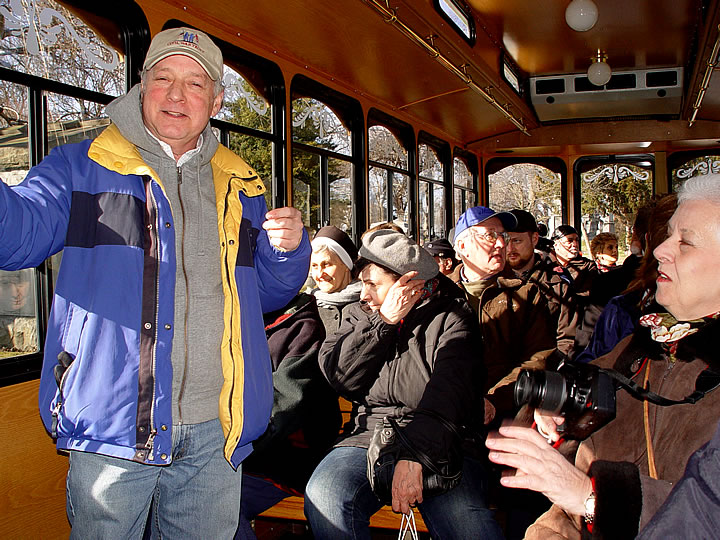 THE GREEN-WOOD CEMETERY TOUR WAS LED BY
GREEN-WOOD CEMETERY HISTORIAN JEFF RICHMAN.
GRAVESITES VISITED INCLUDED
USS MONITOR CREWMEN
ACTING MASTER LOUIS NAPOLEON STODDER
ENGINEER ISAAC NEWTON
CAPTAIN'S CLERK DANIEL TOFFEY
FIRST CLASS FIREMAN EDMUND BROWN

CIVILIANS WHO WORKED ON THE USS MONITOR
AT THE BROOKLYN NAVY YARD
EDWARD L. CRABBE (ENGINEER)
MACHINST EDWARD FARON (MACHINIST)
LYMAN M. STARRETT (SHIPBUILDER)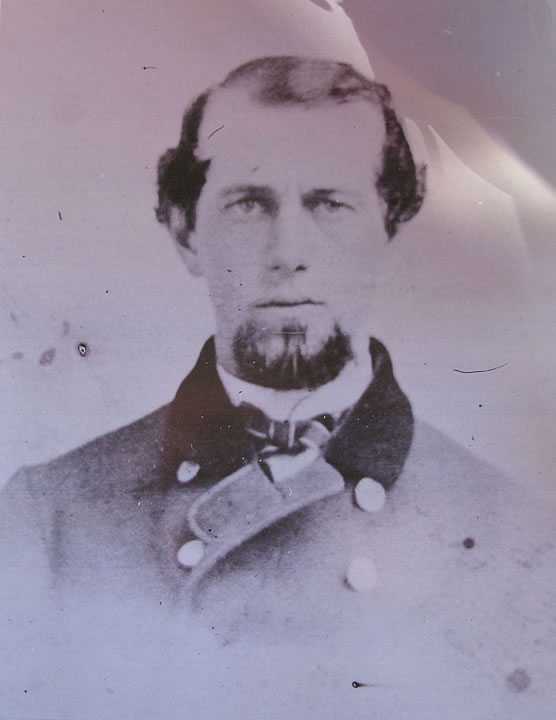 CAPTAIN'S CLERK DANIEL TOFFEY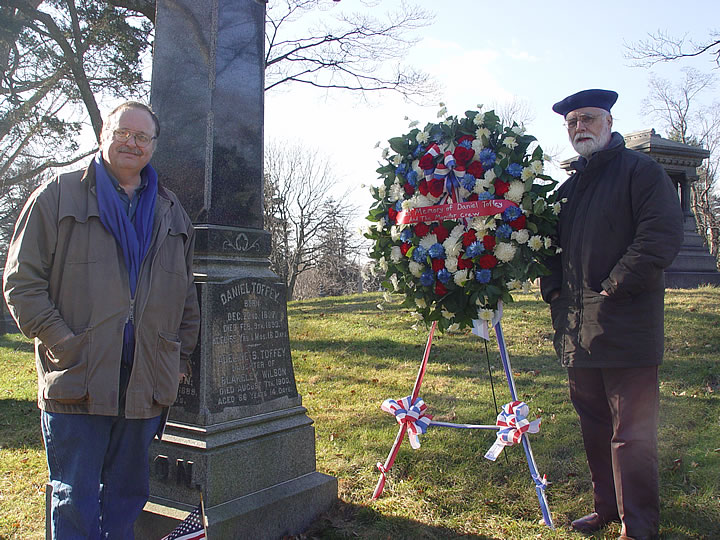 WILLIAM F. FINLAYSON AND ROBERT WORDEN
DESCENDANTS OF JOHN LORIMER WORDEN CAPTAIN OF THE USS MONITOR
AND JOHN WORDEN'S NEPHEW DANIEL TOFFEY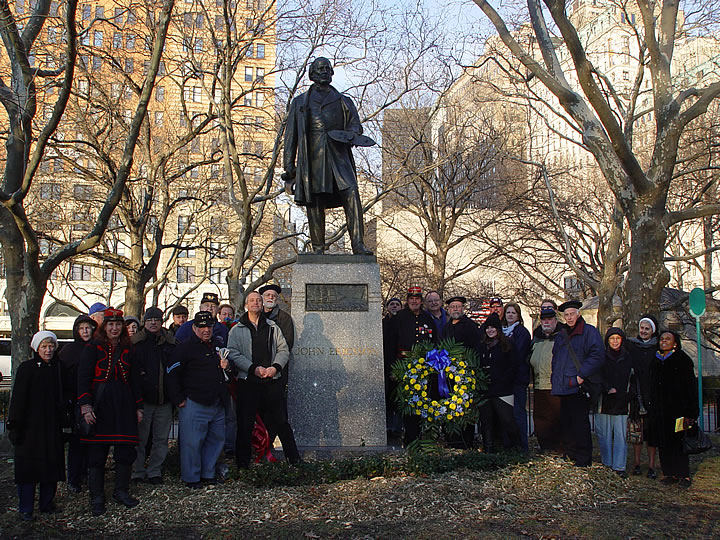 FINAL TOUR STOP AT THE 1903 JOHN ERICSSON STATUE LOCATED IN BATTERY PARK
IN LOWER MANHATTAN BY JONATHAN SCOTT HARTLEY.
Click photos below to begin slide show.

Back to the 150th Anniversary page
Back to the Greenpoint Monitor Museum homepage.
CONTACT US:
THE GREENPOINT MONITOR MUSEUM
P.O. Box 220378
Brooklyn, New York 11222-0378
718-383-2637
Janice Lauletta-Weinmann, President, Webmaster
George J. Weinmann, Webmaster

Copyright © 2002-2014 Janice & George J. Weinmann
All Rights Reserved.