"2013 EVENTS"
150th Anniversary of the
Sinking of the USS Monitor

"PHOTO PAGE UNDER CONSTRUCTION"
EVENT WAS HELD: SATURDAY, JANUARY 12, 2013
Cemetery Trolley: Honored USS Monitor Crewmen and workers at their gravesites.
Greewood Chapel: Memorial Service, musical tribute,
USS Monitor displays, refreshments.

GREENWOOD CEMETERY
500 25th Street
Brooklyn, NY 11232
HONORING
USS MONITOR CREW AND CIVILIAN WORKERS
BURIED AT GREENWOOD CEMETERY
including
EDMUND BROWN (FIRST CLASS FIREMAN - USS MONITOR)
EDWARD L. CRABBE (CIVILIAN ENGINEER AT BROOKLYN NAVY YARD
WORKED ON CONSTRUCTION OF USS MONITOR)
EDWARD FARON (CIVILIAN MACHINIST AT BROOKLYN NAVY YARD
WORKED ON CONSTRUCTION OF USS MONITOR)
ISSAC NEWTON (CHIEF ENGINEER - USS MONITOR)
LOUIS N. STODDER (MASTER - USS MONITOR)
DANIEL TOFFEY (CAPTAIN'S CLERK - USS MONITOR)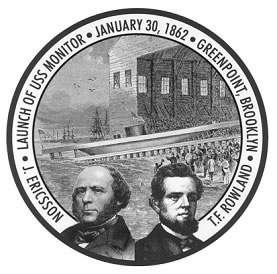 Official Logo of the Greenpoint Monitor Museum
Copyright © 2012
BE A PART OF HISTORY BY CLICKING ON THE LOGO ABOVE TO VIEW THE JANUARY 28, 29 AND 30, 2012 CELEBRATION INFORMATION AND PHOTOS!!!!

Women's Seattle Seahawks Richard Sherman Pro Line Pink Fashion Jersey,Women's Pittsburgh Steelers Gray Stadium Rally Full Zip Hoodie Patriots Jerseys Wholesale.Women's New Orleans Saints Bling Flip Flops,Mens Pittsburgh Steelers Ben Roethlisberger Nike Black Elite Jersey,Men's Jacksonville Jaguars New Era Black NFL Sideline Visor.Pittsburgh Steelers Youth Girls Layered Long Sleeve T-Shirt - Black,Green Bay Packers Football Field Tug Toy,Men's Washington Redskins Pro Line Burgundy Rushmore Stretch Fit Hat Patriots Jerseys Cheap.Dallas Cowboys Large Festive Glass Ornament - White,Nike Charles Tillman Chicago Bears Youth Throwback Game Jersey - Navy Blue,Men's Baltimore Ravens Pro Line Black Westview Pullover Hoodie Wholesale NFL Jerseys.Youth Detroit Lions New Era Blue/Graphite Gold Collection On Field 39THIRTY Flex Hat,Women's Oakland Raiders Black Thematic Print Shorts.Women's Denver Broncos Majestic White/Pink Draft Me Fashion T-Shirt,Men's Oakland Raiders New Era Silver/Black Team Front Neo 39THIRTY Flex Hat,Men's Philadelphia Eagles New Era Black Rib Start Cuffed Knit Hat.Men's Philadelphia Eagles New Era Graphite/Gray Gold Collection Knit Hat,cheap nfl decals for walls,cheap nfl clothing 686,Men's Green Bay Packers Antigua Green Century Polo.Washington Redskins 4-Pack Neoprene Coasters,Youth Oakland Raiders Derek Carr Black Primary Gear Name & Number T-Shirt Patriots Jerseys On Sale
On January 30, 1862, the USS Monitor was launched from the Continental Works located in Greenpoint, Brooklyn, New York.
150 years later on January 28th, 29th and 30th, 2012, a great celebration took place in Greenpoint, Brooklyn to honor the launching of the USS Monitor, the ship that saved the Union. The events honored John Ericsson, her inventor, Thomas F. Rowland, her builder, her crew and the workers who built the USS Monitor.
"EVENT ARCHIVES"
under construction
CONTACT US:
THE GREENPOINT MONITOR MUSEUM
P.O. Box 220378
Brooklyn, New York 11222-0378
718-383-2637
Janice Lauletta-Weinmann, President, Webmaster
George J. Weinmann, Webmaster

Copyright © 2002-2014 Janice & George J. Weinmann
All Rights Reserved.