The Greenpoint Monitor Museum "Road Show"
P.S. 31 - Samuel F. Dupont School
March 24, 2006
P.S. 31 - SAMUEL F. DUPONT SCHOOL
GREENPOINT, BROOKLYN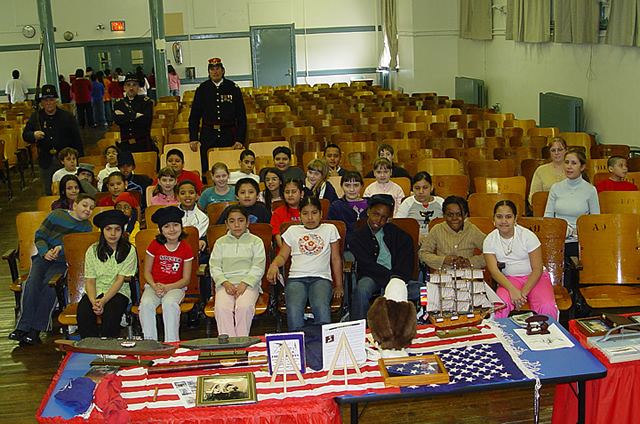 WELCOME FROM THE FOURTH GRADE.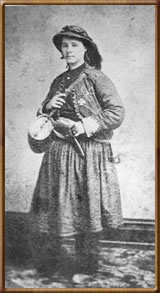 Marie Tebe "French Mary"
The life of a soldier was a very difficult life.
It was a life without family and a life facing sickness and many times death.

VIVANDIERES often accompanied their husbands to war.
They carried food and liquid refreshments, and sometimes
acted as nurses while caring for the sick and the wounded.
The uniform of the Vivandiere matched that of the regiment
of which she was a part. Over her trousers she would wear
a matching skirt and she would carry a pistol for protection and
a small barrel of liquid for the wounded.
A famous vivandiere of the Civil War was Marie Tebe.
She was a French immigrant who became known as "French Mary".
On April 16, 1861 she enlisted in Company I, 27th Pennsylvania
Volunteers with her husband. She participated in 13 battles.
She later served as a vivandiere with the 114th Pennsylvaia
Volunteers known as the Collis' Zouaves d'Afrique.
Mary was wounded in the left ankle by a bullet while serving
with this regiment. For her bravery she received the "Kearny Cross"
for heroism. It can be seen in this photo. Among the battles
in which she served was the Battle of Gettysburg.
Click on the pictures below.
VISIT YOUR FRIENDS AT THE FOLLOWING SCHOOLS:
P.S. 110 - Learn About the USS Monitor
P.S. 161M - Learn About General Ulysses S. Grant
St. Stanislaus Kostka School - Learn About Gen. Wladimir Krzyzanowski (a Polish immigrant)
John Ericsson Junior High School - Learn About John Ericsson (a Swedish immigrant)
P.S. 34 - Learn About the Discovery of the USS Monitor
St. Cecilia School - Learn about Civil War Mascots
P.S. 31 - Learn about the Vivandiere, French Mary (a French immigrant)
St. Anthony of Padua School - Learn about Zouaves
P.S. 84 - Learn about Johnny Clem, children in the Civil War
P.S. 196 - Learn about the 54th Massachusetts & the Black soldiers of the Civil War
The Museum is not-for-profit with 501(c)(3) status.
FUNDING FOR THE 2004-2005, 2005-2006, 2006-2007 "Road Shows" WAS PROVIDED BY THE
UNITED STATES DEPARTMENT OF EDUCATION
Through a $50,000 Grant obtained by Congresswoman Nydia Velazquez

CONTACT US:
THE GREENPOINT MONITOR MUSEUM
P.O. Box 220378
Brooklyn, New York 11222-0378
718-383-2637
Janice Lauletta-Weinmann, President, Webmaster
George J. Weinmann, Webmaster

Copyright © 2002-2006 Janice & George J. Weinmann
All Rights Reserved.