The Greenpoint Monitor Museum "Road Show"
St. Cecilia School
May 10 , 2007
ST. CECILIA SCHOOL
GREENPOINT, BROOKLYN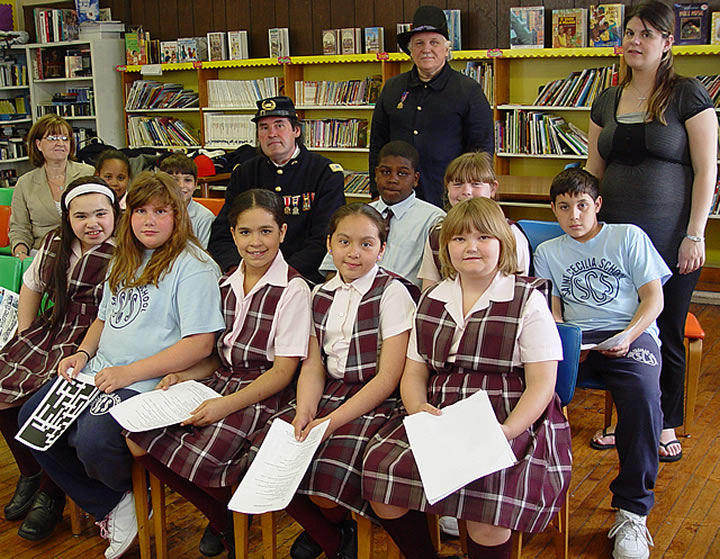 WELCOME FROM THE 4TH GRADE.
Old Abe the Eagle.
OLD ABE WAS THE SYMBOL OF WHAT THE UNION SOLDIERS
WERE FIGHTING FOR. HE BECAME THE EMBLEM OF
AMERICAN FREEDOM.

Old Abe's mother was killed. He was then
sold to a family as a pet for their children. As a teenage
like eagle, he became too big and unruly and was sold for $2.50 to the Eight
Wisconsin Volunteers as a mascot. Old Abe arrived in
Madison Wisconsin with his Civil War regiment. As they marched
to the tune of Yankee Doodle Dandy, Old Abe grabbed at the
end of the flag with his beak and flapped his wings. Everyone
was impressed by this majestic sight. Old Abe was in 37 battles.

Lithograph by Don Troiani - "Eagle of the Eighth".
Old Abe took part in 37 battles next to the flag
as shown in this lithograph.
Old Abe became an orphan when Old Abe's mother was killed.
After the war, the Governor of Wisconsin honored Old Abe
by keeping him in the Capital. Old Abe participated in parades with the
Civil War Veterans. Old Abe helped the Veterans
collect money to care for the Civil War orphans
whose fathers were killed during the War. Old Abe was an orphan too.

When it was discovered that Old Abe was really a "GIRL"
bird in 1889, Old Abe also helped in the women's rights movement.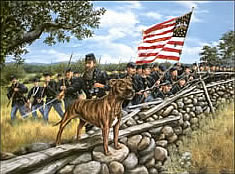 Lithograph of "Sallie" by Greg Stump.
"SALLIE" was a Union Mascot. She was a Staffordshire Bull Terrier.
She went to battle with the Union's 11th Pennsylvania Volunteer Army.
Sallie was at the Battle of Gettysburg, Pennsylvania
with her fallen comrades licking the wounds of the injured and
standing watch over them. Sallie kept watch over her friends
for three days without food or water.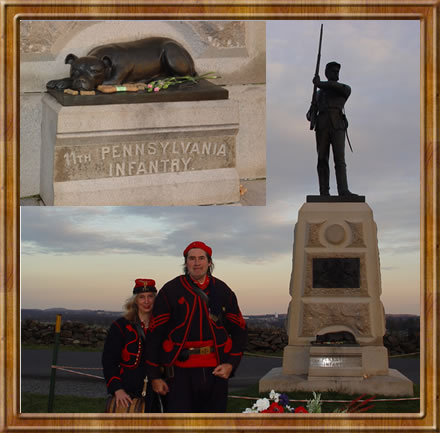 There is a statue in honor of the 11th Pennsylvania Infantry
and "Sallie" on the Gettysburg Battlefield. People often
leave dog biscuits at her statue.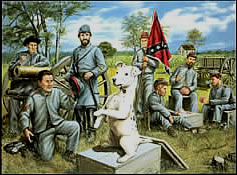 The Confederate regiment called the Richmond Howitzers found
their mascot as a puppy when he wandered into the summer fighting
around Richmond, Virginia. They named him "Stonewall" after
the Confederate General Stonewall Jackson. Stonewall was a
Jack Russell Terrier. The troops would hide him in an empty
ammunition chest whenever they were under fire because
Stonewall would jump up and down in the line of fire. During
roll call Stonewall would sit with a pipe in his teeth. He made
the men laugh. This was important for the Civil War
soldiers during the terrible times of war.
Click on the pictures below.